Pick Your Class:
Review our schedule to determine which class you would like to join.  
Click here to find out more about what to expect in our Terrific Tadpoles, Perfect Pollywogs and Fantastic Frogs Classes*!
(*please note, this document reflects our regular classes.  We have recently made some changes to adjust to Covid requirements.  Please see our class policies on our home page for more details).
Payment Options:
* Call: 203-272-4FUN
* Online: here
* Visit us or mail payment to:
360 Sandbank Road, Cheshire, CT 06410
Due to Covid requirements, we are currently only accepting registration through our online store at this time.
Complete registration/waiver form and mail or bring to class:
You may fill out our class registration form here: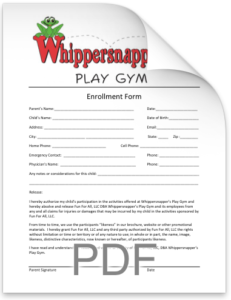 Please note, due to Covid requirements, we now have another waiver that must be completed prior to attendance.  It will be emailed to you when you register online.
Class Enrollment Information



COVID requires us to alter this information at this time.  Please refer to our class policies during this temporary phase of our opening.
NO Annual Membership Fee
Class fees vary by session. Click on the class schedule for details for all class rates.
Classes meet one time per week.
Children currently enrolled in a class are granted one free open play per week. All additional open play sessions within the week are $7.00 per child. Free open plays do not accumulate throughout the session; they must be taken once per week only.
There is a 10% multiple class discount for all classes.  Multiple class discount only applies to 2 or more class enrollments in the same session (for example, siblings each registered for a class or one child registered for two classes in one session.)  Discount applies to lower priced class. Discount does not apply to open play fees.  Discount does not apply to camp or Parents' Night Out events.
Class fees will be prorated for members joining mid session, based on class availability.
Make up classes are allowed when members cannot attend their regularly scheduled class.  All missed classes must be made up within the same session; they do not carry over to the next session.
All participants, including adults, must come prepared to play in socks or bare feet.
We offer one time free trial class.  Call us to schedule one for your child.
Whippersnapper's Play Gym reserves the right to cancel any class that does not meet our minimum enrollment of 4 children per class. Another class day and time will be provided in the event a class must be cancelled for a session.
In the case of inclement weather, Whippersnapper's Play Gym will announce any closings or changes to the schedule via our facebook page and on the home page of this website.